McLennan County reports 176 new COVID-19 cases; Mart juvenile justice center to test all inmates, staff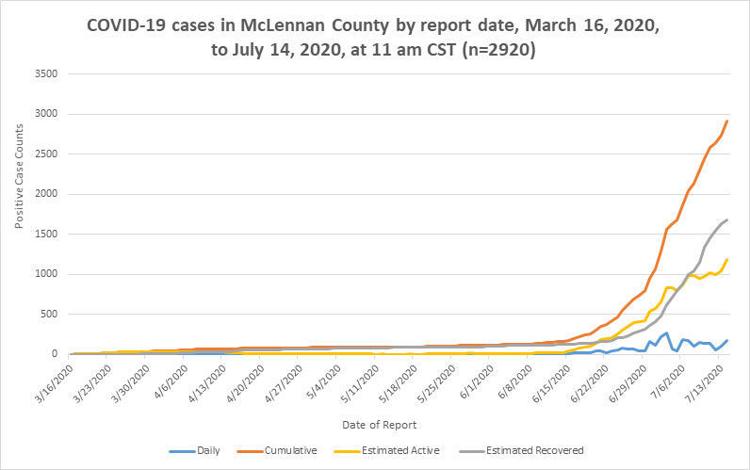 All inmates and staff at the McLennan County State Juvenile Correctional Facility in Mart will be tested for COVID-19 this week, after 31 juvenile inmates and eight workers tested positive, the Texas Juvenile Justice Department announced Tuesday.
The department reported Monday that 29 more inmates and three more workers had tested positive for the coronavirus at the Mart facility, which currently holds 214 juvenile inmates. Most, if not all, youth who tested positive have not shown symptoms, and none have needed to go to the hospital, department spokesperson Brian Sweany said.
Meanwhile, McLennan County reported 176 more residents had tested positive for COVID-19 on Tuesday, while revising the county's death toll because of a reporting error Monday.
The Waco-McLennan County Public Health District reported that one of the people who died from COVID-19 complications Monday was not a McLennan County resident, the 65-year-old white man who died in a Waco hospital. Because he was not a resident of McLennan County, his death will not be counted toward the county's total death toll, which stood at 18 as of Tuesday.
Additionally, the health district announced a change in the way it reports people who have recovered from COVID-19 and who are currently sick because the exponential growth in people in testing positive has forced the health district to discontinue daily check-ins with people. The active and recovered numbers will now be referred to as estimates. Cases will go from estimated active to estimated recovered 10 days after the patient's onset of symptoms or 10 days after their test sample was collected.
Of the 2,920 McLennan County residents who have tested positive for COVID-19, 18 have died and an estimated 1,716 people have recovered. An estimated 1,186 people are actively sick with the disease, according to the health district.
Waco hospitals are treating 73 patients, including 10 who are on ventilators.
The U.S. Centers for Disease Control and Prevention updated its guidance in late May for people who think or know they have COVID-19. The new CDC guidelines state that someone with symptoms of COVID-19 can be around others after three days without a fever and 10 days since symptoms first appeared, and after breathing and coughing issues have improved. But people who have been around someone with COVID-19 still need to isolate at home for at least 14 days after exposure, according to the guidance.
The health district had continued to monitor McLennan County residents who tested positive for COVID-19 with daily calls, district spokesperson Kelly Craine said.
"As cases continue, it's just not feasible to do that," she said.
Now the health district is following the CDC guidelines to estimate active cases, Craine said. The health district now considers people to have recovered from COVID-19 if 10 days have passed since they first had symptoms, whether that person has actually recovered or not. The number will be an estimate now, and the number of people actively sick will be calculated by subtracting the recovered people and those who have died from the total number of people who have tested positive.
Until the last week of June, health district staff contacted each person who tested positive daily until they recovered or met the 14-day isolation period, but when COVID-19 began to spread exponentially in McLennan County, the health district sought assistance from the Department of State Health Services to monitor people.
The health district will continue to work with the Department of State Health Services to identify people who have tested positive to provide proper health guidance and to identify close contacts or potential clusters of sick individuals.
At the McLennan County jail complex, 17 workers and 54 inmates have tested positive for COVID-19, while 455 workers and 1,007 inmates tested negative. Another 68 jail workers have recovered. The health district completed testing at the jail complex June 26, and results from state laboratory testing of the last of those samples were finalized Tuesday, 18 days later.
Additionally, Texas set more single-day records in the number of hospitalizations and people testing positive for COVID-19 on Tuesday, with 10,569 people hospitalized and 10,745 more people testing positive, according to the Department of State Health Services.
5 tips for wearing face masks in hot weather

5 tips for wearing face masks in hot weather