Graphic: Gabe Carey
Best Deals of the Day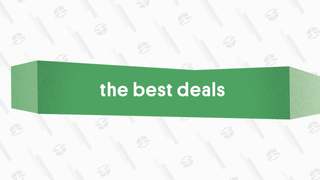 Best Deals of the Day
The best deals from around the web, updated daily.
A brand-new Tacklife 800A jump starter, an Anker PowerPort hub, a sale on Carol's Daughter hair milk, a discount on LEGO Star Wars: The Skywalker Saga for Xbox One and Nintendo Switch, and a 6-in-1 Instant Vortex Plus air fryer lead Thursday's best deals.
Bookmark Kinja Deals and follow us on Twitter to never miss a deal!
G/O Media may get a commission
Pay $7 for Four Rechargeable AA Energizer Batteries That Last Up to Five Years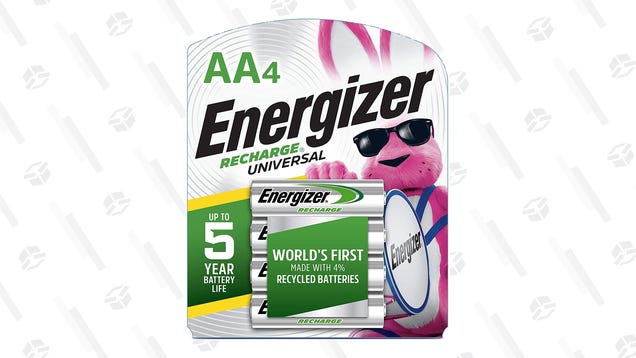 Energizer AA Rechargeable Batteries
I don't know about you guys, but I often forget to plug in my (somewhat ancient) iPhone 8 Plus almost every other night, despite the cord being right on my nightstand. I'm sure there are a couple of folks who do the same thing, and I'm here to tell you we don't have to suffer anymore. The Anker Powerwave charging stand duo are grouped in one package for $26, no code necessary.
You can charge both iPhones and Androids at a pretty good speed. The best part is that you don't have to take off your phone case to get a good charge! It can deliver power with cases up to 5mm thick, so don't worry about your phone mysteriously falling and breaking its back on the cold, hard floor. I'd grab this duo before it is gone!
This deal was written by Ignacia Fulcher on 6/29/20 and updated with new information on 7/1/20.
---
Stop buying all those cheap regular batteries. Sure, you can pay $5 for a 24-pack, but how many of those are you buying over the course of a year? Not to mention having to dispose of them, which many people don't take proper environment-saving measures to do. Instead, pick up a 4-pack of AA rechargeable Energizer batteries for $7.
They're rated to go up to five years under typical usage patterns, and these 2,000mAh NiMH cells are compatible with most standard battery chargers, like this cheap one you can purchase for $6 if you don't already have one.
---
Through July 5, save 21% on an Anker USB-C hub that has four USB-A 3.0 ports and a 4K HDMI port. Normally $76, your damages come down to $60 with exclusive promo code KINJAPWHUB. The puck can be used standalone, but when you plug it into a wall, you'll get 30W charging for MacBooks and other Power Delivery laptops, plus up to 7.5W charging for smartphones, tablets, and other devices in the first USB port. All others are data-only.
---
The sweet spot for quality true wireless earbuds tends to hover around $50, but SoundPeats woos you to try its TrueFree wireless earbuds with a $6 on-page coupon and an extra $3 off with promo code 792CUFIB. You're paying just $24 after the discount for a pair of buds with Bluetooth 5.0, up to 4 hours of runtime with 35 hours total in the case, and a one-year warranty to cover your butt in case anything goes wrong.
---
Image: Samsung
You can add 1TB of solid state Samsung memory to your PC for $110 after a $20 discount on Samsung's 860 QVO model.
This is a 2.5″ SATA 3 drive that can fit in either a desktop or laptop. With 100/90 MB/s of read/write speed, it'll run laps around any mechanical drive you have, so be sure to upgrade if your PC could use a big, cheap speed boost.
---
With most kids home from school by now and many unable to kill hours at the park making fragile sandcastles with local friends, Alexa could be the ultimate alternative. If you're not weirded out by your little ones talking to an AI robotic voice—which you shouldn't if they've already resorted to their imaginary buddies—the Amazon Echo Dot Kids Edition could be the perfect substitute. Amazon is knocking $20 off the cost of one. Your total is $50.
The Echo Dot Kids Edition is just like any other Echo Dot, giving you hands-free access to countless Alexa skills. The difference here is that it has a funky fun color scheme, the skills are all child-friendly, and there's enough parental control to give you peace of mind.
Kids can ask Alexa to read them a bedtime story or play music, and with a year of FreeTime Unlimited included with every purchase, they'll never run out of things to check out.
This deal was originally published by Quentyn Kennemer on 4/7/2020 and updated with new information on 7/1/20202.
---
If you're someone who is looking for versatile quality headphones today's deal might be for you. These Nubwo gaming headphones are currently 59% off and are a top-rated item for Amazon.
When I put my headphones on or earbuds in and jump into a world whatever game I'm playing I need to know they can handle a few things. If it's a game where I need to be in contact with my team I need a crisp and clear speaker. I was a huge Playerunknown Battleground with a bunch of my old coworkers so having built-in mic with low distortion was super important. Knowing I was going to have those suckers on my ears for a few hours too factored in so comfort was a key factor as well. These headphones are rated high on ergonomics. They have a padded headband and their cozy leatherette ear cups will be just fine for any game you're logging some hours on. And don't worry about what system you subscribe to these bad boys are compatible with PC, PS4, Xbox One, Nintendo Switch, and mobile.
Free shipping for Prime members.
---
If you've been looking for a meaty USB-C hub to pair with a new Macbook or other USB-C device, take a look at the Anker PowerExpand+, which sports gigabit ethernet, HDMI over USB-C, USB-C 60W Power Delivery, a card reader, USB-C and two USB 3.0 ports, all for just $31 when you use code AKUSBC46. They'll even throw in a travel pouch to keep your new best friend cozy on the road.
This deal was originally published by Quentyn Kennemer on 4/21/2020 and updated with new information on 6/30/2020.
---
Needed a good reason to give Visible a try? We'd say getting a $200 gift card with your purchase of one of the best mid-range phones on the market qualifies. The Samsung Galaxy A51 is on tap for $408, or $17 per month for qualified buyers.
Factoring in the Mastercard virtual account you'll get after your first two months, you're essentially paying just above $200 for a smartphone with a 6.5″ Super AMOLED display, a 48MP quad camera, in-display fingerprint, octa-core Exynos performance with 4GB of RAM, and more, all running on Verizon's 4G LTE network through Visible's no-nonsense plans. Check it out at Visible.
---
The Apple Watch Series 3 is the last one I ever owned, so you know it's coming from experience when I say I regret ever getting rid of it. While the newer, flashier models come with thinner bezels and always-on displays, I never felt like I was sorely missing out on those features. You can still use the Apple Watch Series 3 to track fitness activity, listen to music, and check your heartbeat. Now $30 off on Amazon, bring home the 38mm GPS model today.
I don't care if you can barely move around your desk without knocking over one of several hundred figurines you already own. I just don't. You have to buy this Super Mario figurine set featuring 20 pieces of the franchise's most memorable characters for only $26. They're small enough to be cake toppers, and there's this cool functionality where you can just lick the frosting off and repurpose them as play things.
---
Somewhere in a galaxy far, far away, someone, somehow, hasn't played a LEGO Star Wars game. If that's you, now is your chance to play through the events of all nine films from The Skywalker Saga, with the collection discounted to $50 on Xbox One, PlayStation 4, and Nintendo Switch.
You can start your adventure from any point you like, so skip all that boring stuff on Tatooine and go hang out with Jar Jar on Naboo where the real fun is.
---
In her review for Kotaku, Tina Amini called Sleeping Dogs "like Grand Theft Auto, but with a focus on kung fu." If that sounds up your alley, the PC version of its Definitive Edition is on sale for $3 on Amazon. Set in Hong Kong, you assume the role of a gangster named Wei Shen, who feels more like a weapon than a fighter to play as. "It's about family, corruption, loyalty," Amini said. Should your backlog allow for it, United Front Games' open-world sandbox was an unanticipated delight when it originally launched in 2012.
---
Team Ninja has another banger in Nioh 2, the souls-like Iaction RPG that only knows PS4 as its home. If you've exhausted your backlog and looking for something new to play, you can pick the special edition up at Amazon right now for $23 off, or a final total of $57. The standard copy is also on sale for $37.
The special edition comes with a few extra niceties for the few extra dollars they're requiring, including a steelbook case, an art book, and the season pass that'll presumably put you in line for all the DLC that release down the road.
Here's how Heather Alexandra at Kotaku starts off in her long evaluative look at Nioh 2:
The Dark Souls formula is tried and true. It's been adapted into science fiction settings, placed into 2D, and refined time and time again. 2017's Nioh is arguably the most successful spin on the genre, adding flashy combat and the turbulent politics of medieval Japan. Nioh 2 is an improvement on every front. There's no other way of saying it: I've never played a game where fighting feels as good as this.
Sold? Buy.
This deal was originally published by Quentyn Kennemer on 4/23/2020 and updated by Quentyn Kennemer with new information on 6/30/2020.
---
Greatness may be awaiting the PS5 launch targeting late 2020, but you can get a headstart on your PlayStation Plus subscription renewal (likely still required for online multiplayer and monthly freebies) at CDKeys. $31 nets a whole year, about half the price you'd otherwise spend on Amazon. If you don't want to risk paying full price, snag this deal for access to Rise of the Tomb Raider: 20 Year Celebration, and NBA 2K20 for the month of July—no hidden fees added. Simply redeem the code in your email post-checkout and you're set for 365 days.
---
For gaming mice, weight is an important factor that can make all the difference between game-changing ult and an embarrassing misplay. (We all know it wasn't lag, man. Just fess up!) But all gamers aren't created equal. If you prefer a lighter mouse, check out the Razer Viper, coming in at just 69g, and with a 16K optical sensor, your crosshairs will move like ice on tile. It's just $50 at Amazon, which is even cheaper than you could find it this past Black Friday.
---
If you want to know what it's like to be a real dictator coughtalkingtoyoutrumpcough, Tropico 6 thrusts you into the role for only $20 on PlayStation 4 and Xbox One at Amazon today. Unlike previous titles in the series, Tropico 6 puts you in control of a whole cluster of islands, giving you new transportation options to keep your citizens moving to and fro, plus new political possibilities for those who prefer diplomacy-driven totalitarianism over the much messier brute force tactic.
---
Today, you can score a wired Nintendo Switch controller by PDP that resembles a GameCube pad, which some Super Smash Bros. purists will tell you is one of many prerequisites to call yourself a true fighter. The C-Stick is interchangeable with a standard analog stick, too. Only $19 (25% off), you'll get heavy Super Mario Odyssey vibes from this red beaut.
---
Crash Bandicoot fanatics need to jump on this pre-order deal for a hardcover book featuring artwork from the Crash Bandicoot 4's creators, given it's now 31% off. That brings your total from $45 down to $31. Unfortunately, we don't even have a cover shot of this thing yet, but with 312 pages advertised, this is a thicc one.
Crash Bandicoot 4: It's About Time was announced just a week ago, and if you haven't already, you can pre-order that, too.
Best known for their electric pressure cookers, Instant Pot makes a wide array of kitchen devices, each with their own unique functionality. The Vortex Plus 6-in-1 air fryer in particular is much more than JUST an air fryer.
It broils, bakes, roasts, reheats, and rehydrates as well. Just look at those crispy tendies and delectable steak fries. With a 6-quart basket and versatility to spare, you can order your own at 50% off the list price for a limited time.
---
If you're quarantined with a partner, a few roommates, or maybe you've headed back home to coop up with your parents, there are probably some unforeseen frustrations you're dealing with. With everyone working from home, you might find yourselves racing to get to the kitchen first so you can get your breakfast done before logging on. Fighting over the stove is no fun, though, so adding another tool to your kitchen arsenal can help get a few more hands in the kitchen, and everyone to work on time. This electric griddle from Dash, typically $50, is down to $40 right now on Amazon. Its nonstick surface is easy to clean, and it has plenty of room to make a full breakfast.
---
The last thing anyone wants in these times is to be stranded on the side of the road. If you're interested in proofing yourself for future car trouble, Tacklife's latest deal is a sweet one. You can save 40% on its 800A jump starter when you clip the coupon at Amazon and apply promo code S3BG3JON, bringing your total down from $70 to $45.
Tacklife's 800A unit comes with the battery clamps needed to jump any 7.0L gas or 5.5L diesel engine. With dual fast-charging USB ports and an 18,000mAh cell inside, you can also be sure your phone won't die on you at the worst possible moment.
---
If you read my piece on great indie coffee companies to support you might have upgraded your java maker. Well, now it's time to revamp those coffee cups. You can grab these two double-wall thermal mugs that are visually pleasing and keep your joe the perfect temperature for just $14 today.
The type of glass these are made from use incredibly durable elements and keep warm beverages heated longer. And there's no need to worry able a hot handle they designed that right out of these. It's actually not too hot to handle. The glass is gorgeous making these an excellent housewarming gift or present for an espresso aficionado. They are dishwasher safe and if you prefer the microwave to the kettle no worries, they're safe there too.
Free two-day shipping for all Prime members.
---
If you have a thirsty or curious critter you might be constantly filling water bowls. We've been blessed enough to have been able to spend the last few months with our furbabies so helping with hydration hasn't been much of a chore. But as we get more comfortable fleeing the homestead again I ask, who is there to keep the whistles wet? Take $5 off this Drinkwell pet fountain today keep fido flush with fluids.
Even if you are home you might just have a needy pet when it comes to H2O. I've had many mornings where my terrier just drank an entire bowl and runs in where I'm working only to drop the bowl in front of me. This fifty-ounce fountain is a free-falling stream that's filtered to keep it fresh and odorless. You can customize that steam to a flow that's perfect for your pet. It's easy to clean and operate. Whether you have a furry purry or a woof-woof they will thank you with all the cuddles for this refreshing new toy.
As always Amazon Prime members get free two-day shipping.
---
Nothing's worse than pulling into your driveway at 12AM and damn near ditching yourself because the landscaping sucks and you can't see what you're doing. Fix it with 12 solar lights that you can hammer into the ground and never worry about charging. They're only $29 at MorningSave.
---
It's that time of year where if you can't make your bedroom like an icebox you need backup. If you aren't lucky enough to coexist with central air getting cool and comfy for a peaceful summer slumber can be a challenge. My Sheets Rock is here to the rescue with 15% off temperature regulating sheets.
It's not just the pillow that's the cool side of sleepy time now, it's the whole plushy outfit. My Sheets Rock brings that chill to your entire bedding experience. Their temperature regulating sheets are heaven-sent to the sweaty and the overheated apartment. If you have significant other who runs a bit hot this is gamechanger. Even my small terrier sometimes sleeping on top of me is just too much when the temps get tropical. Knowing I've got sheets that make everything temperate so I can still snuggle my pooch in summer is wonderful. And all for less.
Sale runs until July 5 and there is free shipping.
---
If you've thought about giving your car a touch of ostentatious flair but don't know where to start, Govee's LED strip lights are on sale for 24% off on Amazon. For that price, you can effectively transform your whip into a gaming PC on wheels and never, ever look back. Choose between 16 million colors, and sync up your music to enjoy a spectacular light show congruent to the beat. A dedicated companion app even lets you go deeper with customization. Simply plug the wire into your cigarette lighter and start driving in style.
---
Add 108 pieces of DEWALT tooling to your bag with this comprehensive socket set, which is down to $70 after a 50% discount from MSRP. The main star of the show is a 72-tooth ratchet designed to fit in hard-to-reach spaces. Everything you need will fit perfectly into the classic yellow carrying case it ships with.
---
At MorningSave, this double trouble of cookware includes a 6-quart hard-anodized nonstick stock pot and a matching3-quart sauce pan designed to save as much cabinet space as possible. They perfectly stack atop each other in whichever configuration you like. They'll ship with a pasta fork and spoon, all for $79.
---
With the Amazon Echo Glow, you can set up custom lighting routines to have the multi-colored RGB lamp add fun and order to your kids' routine. You can use it as a countdown timer, a bedtime or "get your ass up and dressed for school" signaler, and even have Alexa start up a light show for some mid-day dance breaks. And no one says you have to be a kid to use it. (Don't worry, we don't judge.) It's only $25 after a respectable $5 discount.
---
If you spend a lot of time preparing delicious meals or love being in the kitchen but could stand to streamline your process a chopper just might be in your future. This Black+Decker is 35% off and a steal of the day.
The four-cup glass bowl chopper aids with not just chopping but mixing and as mentioned can severely cut down the amount of preparation goes into all your lovingly made meals. This little chopper packs quite the punch for its size and the two glass bowls that comes with it fit snuggly on so whether you choose high power or low power everything is staying in there. They're easy to store in the fridge, safe enough for the freezer, over, or microwave and easy to clean. The removable blade is dishwasher safe so even if you mix your own peanut butter you'll still get it sparkling like new. Pinpoint that homemade salsa recipe ready and get to the choppa!
Free shipping for Prime members.
---
If you want everything on the outside looking pristine, then you'll want to get a pressure washer. A pressure washer can get out stains in the driveway, or blast away that hard-to-get gunk in between bricks.
If you're serious about your house looking the best, then Lowe's has this Greenworks pressure washer for just $79. This sale lasts until July 8, but you'll want to grab one before they sell out!
---
Remember at the beginning of quarantine sixty years ago when everyone was trying to make Dalgona coffee. Apparently it's easier than it looked but I quickly abandoned the idea because I did not have a hand mixer or frother. Today Amazon has this one from Bonsenkitchen for just $11.
I like that in the reviews someone brought up how portable and lightweight it is, which I guess if you have a coffee/milk emergency you could carry it with you. But it does look easy to operate with just one button and it's easy to clean, unlike other kitchen appliances. It's tiny but powerful so you'll be able to enjoy your Dalgona coffee in twenty seconds or less.
Free shipping for all Prime members.
---
Today at SideDeal, you can get a VAVA Mini dash cam for only $29. It has a 1080p camera with 140-degree wide angle recording to make ensure you capture everything in front of you. With a protruding lens and a 3-inch LCD, it almost looks like a digital camera. This model features motion detection, too, so it'll automatically record the moments leading up to any collision, driving or otherwise. You'll get an 8GB SD card with your purchase. Find it for $29 at SideDeal.
If you're looking to restock on body wash, Dove has a jumbo-sized bottle for a low $8. There's not much to say about this except it gives you extra moisture while also being easy on sensitive skin. I suggest you buy it because summer is here and it's rude to smell (and in COVID-times, not to wear a mask in public).
---
Applying makeup is fun, removing it? Not so much. You can grab a two-pack of Neutrogena Makeup Face Wipes for a decent $8. They're hypoallergenic, which means they'll take off layers and layers of foundation, blush, and lipstick without irritating sensitive skin. As a makeup junkie, I have a pack or two in my bag. Get em' before they're gone.
---
If your natural hair is starting to get a little dry because of the summertime heat, give it some moisture with Carol's Daughter Hair Milk. It's only $11 and is super gentle on natural hair of all types. It's also sulfate-free, so it won't unintentionally dry your hair out more. Grab it before it's gone.
---
Traditionally July 4 is a killer sale time, even if we aren't headed to massive barbeques or going to see fireworks, our style shouldn't suffer. JACHS NY knows this, which is why they're offering up 75% off sitewide with the code JLY4. There's free shipping for orders over $100. Otherwise, all other orders are shipped for $8. If something doesn't fit just right, they're still honoring free returns, too.
---
Image: G/O Media
Pride may be nearly over, but here at The Inventory, our commitment to human rights is unwavering. To finish out strong this month, we're donating a portion of each sale from our dedicated merch stores across the whole network to the following charities and nonprofit organizations. Click the name of your favorite site below to browse the full catalog. A couple of our sites have even introduced Pride merch including a "Gays in Space" sticker from io9 and an embroidered t-shirts from Jalopnik.
However you present or identify, you can proudly sport our swag while giving back to a good cause.
---
If wash day is always being pushed back because you have way too much hair, consider using a natural hair detangler from Bestool. It's only $12 and can extend depending on how thick your curls are so it can easily loosen knots without breakage. I would go ahead and jump on this deal before it's gone.
---
Because of the COVID-19 pandemic, Ella Paradis is experiencing fulfillment delays for some products. If you have any issues, make sure to contact their customer service page for any help.
So Ella Paradis is having a sale, and select vibrators and sex toys are up to 50% off! Do you know what that means? Toe-curling orgasms for days and days if you choose to indulge. Some of Kinja Deals' favorite picks are the Lelo Sona 2 Cruise, which adaptively knows how much pressure to place on your clitoris, the Satisfyer Pro 2, which imitates oral sex for vaginas, which is amazing! And a classic magic wand called the Wand-er Woman, that is not for beginners. I would go ahead and hop on this deal before it's gone and don't forget to type in "WORK" at checkout!
---
For the next week, Rihanna is graciously giving us 30% off her favorite highlighter. All five shades of Killawatt Highlighter are just $25 and no code is needed.
There are really eight shades to grab from depending on which compact works for you as three of them have two color combos. Metal Moon works for everyone for a pearly iridescent shine and it's is one of RiRi's favorite products. It's actually my preferred one too.
Most Shimmer Stix are also on sale for $18 and since you aren't paying extra for shipping you might as well grab a few discounted things.
Free shipping on all orders and deal ends July 6.
---
Some of you have had some pretty busy and eventful weekends, and some of you just mud-butted your way through The Last of Us Part II. Don't fret: SideDeal is here to save you with a 10-pack of Dove deodorant spray for just $29. Each bottle gives you 150ml of must coverage for up to 48 hours.
This variety pack can include the following scents:
1x Invisible Dry
1x Extra Fresh
1x Clean Comfort
1x Cool Fresh
1x Minerals + Sage
1x Aqua Impact
1x Sensitive Care
1x Silver Control
1x Talc Mineral + Sandalwood
Each box will include no more than two of the same scents, so grab some and see if you can't find yourself a new aphrodisiac.
This deal was originally posted by Quentyn Kennemer on 6/1/2020 and updated with new information on 6/30/2020.
---
If your breath is kicking like an unborn baby, you might need to wash it out. TheraBreath offers a vegan and kosher formula endorsed by real dentists, and you can get two 16oz bottles of the Icy Mint variety for just $11 at Amazon. Clip the coupon and order with subscribe-and-save for maximum savings. Just remember to cancel before your next scheduled shipment if you end up hating it.
---
The SkinStore has put almost three thousand products starting at 25% off in their 4th of July sale for their favorite brands. No code needed but lots of great companies have killer savings up for grabs starting today.
When a sale like this happens you look for companies like Sunday Riley, they high priced goods that rarely have discounts like this. Their multivitamin kit ($21) is key for anyone looking to even out discoloration or give their skin a glowing wake up. I like these warm face masks ($34) from Snow Fox for pore reduction and blemishes. It's a nice change from cool gel masks and very spa-like. I'm a fan Wander Beauty and this hydrating mask ($29) should be added to your arsenal is you're looking to reduce any fine lines and plump your skin up for a refreshing restful look.
Sale runs until July 7 and there's is free shipping on orders over $49.
Today at Amazon, you can find the new Sonic the Hedgehog movie discounted, which I totally forgot about with the initial blue furball controversies, but with an updated character model that actually looks like Sonic, I'm willing to give it a fair shot. It's only $10 to own a digital 4K Ultra HD copy at Amazon, or you can rent for just $4 if you know this will be a one-and-done viewing for you.
---
Ten years after the first publication of original The Marvel Vault an update was sure to happen. The second version is 31% off right now at Amazon and is the perfect gift for the die-hard Marvel fan in your life.
This is sure to be a joy for all Marvel enthusiasts new and old and an ultimate preset for anyone who wants to stump their friends with Gold Age history. This beautifully curated book is full of new memorabilia and now includes the beginnings of Marvel studios. Like the first edition reproductions of art, early sketches, and Stan Lee's notes for characters and storylines come with the book in their own collector's envelope. Marvelous packaging that will look lovely on any bookshelf or coffee table.
Free shipping on this book if you are a prime member.
---
Need some action films for your next movie night? Well, you're in luck! Amazon has the Mission: Impossible 6-Movie Collection on Blu-Ray for just $33. That's just a little over $5 a movie, and just under half off its normally $60 price tag.
This collection includes all of the Mission: Impossible films, so if you haven't seen any of the films in particular, now is your chance to catch up. If you love action moves and don't have the these titles, you're really missing out.
There's nothing worse than a dead controller when you're in the mood to game. With the BEBONCOOL USB charging station, you'll be able to restore power to two, count them, TWO controllers at the same time. With the charging station, you'll be able to get a fully charged controller within two hours, and the LED indicator will let you know when each controller is up to full power. The best part about this though (besides the $13price tag), is it can be plugged into a wall adapter, laptop, or other compatible USB devices. Grab this before it's gone.
This article was originally published by Ignacia Fulcher on 3/13/2020 and updated by Ignacia Fulcher with new information on 6/25/2020.
---
If you've been itching to up your audio game, or just need something to drown out the noise in your makeshift home office, consider Apple's AirPods, which you can get for $20 off right now at Amazon.
They're also available at Newegg for a couple bucks cheaper, in case they happen to be out of stock. They're portable, so you can carry them with you around the house, easy to pull out when you need to chat with someone, and they easily pair with all your Apple devices so you don't have to keep futzing with Bluetooth settings all day.
---
With 4th of July quickly approaching, HP wants to hook you up with big savings to celebrate. You can save up to 60% off in its biggest sale of the summer. Everything from laptops to printers are up for grabs, some with steep savings.
One of the best deals you'll find is on this HP 340S G7 notebook that starts with a 14-inch 720p+ display, 10th-gen Intel Core i3 chipset, 4GB of RAM, and a 128GB SSD for $458, down from $1,146. You can customize it to add 1080p and beefier internals, up to a Core i7 chipset, 16GB of RAM, 512GB of SSD storage, WiFi 6, keyboard backlighting, and a fingerprint sensor.
---
As a proud new owner of the base model 16″ MacBook Pro—which normally runs about $2,400—I've gotta say, I feel duped by this rare discount on Amazon that brings the price down 10% to $2,149. If I'd saved $250 on my MacBook Pro just a few short weeks ago, I could have bought 250 cheeseburgers from the dollar menu at McDonald's. Or, if I was feeling responsible, I could have put it toward my car payment.
Ah, but alas I did not and so I'm sitting here advising you not to make the same mistake I did. If ever you were thinking of buying the 16″ MacBook Pro, now is the time to grab one. It's got a six-core i7-9750H processor, 16GB of fast 2,666MHz DDR4 RAM, 512GB of flash storage, and a 4GB AMD Radeon Pro graphics processor built-in. Call it mitochondria because it's a real powerhouse … for a Mac that is! Graced with force-canceling woofers, the six-speaker sound system is impressive as well.
Although I've personally run into constant pinwheeling in Chrome ever since I got the thing, that issue isn't unique to me or this MacBook specifically. My partner has the same problem on her brand-new 13″ MacBook Pro and I had it on my 2017 version of that laptop before it. Otherwise, it's been smooth sailing. Test it out for yourself, and remember Amazon has a 30-day return policy if it's not up to snuff. I, for one, blame Chrome.
This deal was originally published by Gabe Carey on 6/11/2020 and updated by Gabe Carey with new information on 6/24/2020.
---
All the Disney favorites are here princesses, Pixar, Star Wars, Marvel, and of course Mickey. Grabbing a towel or three for just over $10 apiece is a steal for the 4th of July. This is also apart of a limited swim accessories sale so if you're hitting the beach or the pool over the holiday pop into that sale to stock the family up on splash wear. If you've got tikes in need a new swimwear this is the sale you've been looking for with a ton of options for girls, boys, and baby.
Free shipping on orders over $75.
---
You might think those LEGO games are just for kids, but try one and you might find yourself falling in love with your childhood all over again. Today, you can score various LEGO games on the cheap, including the LEGO Marvel Collection that bundles LEGO Marvel Super Heroes, LEGO Marvel's Avengers, and LEGO Marvel Super Heroes 2 for one low $15 on both PS4 and Xbox One. The LEGO Harry Potter Collection includes two games for $16 on PS4 and Xbox One, too. ($20 on Switch.)
Singular titles are going for that same sweet $15 price, including LEGO Incredibles (PS4, Xbox One, $20 on Switch) and LEGO DC Super-Villains (PS4, Xbox One, $20 on Switch). The LEGO Movie 2 Videogame is a nice exception at just $13 on PS4, and once again, $20 on Switch.
There's a lot more to discover at Amazon, with discounts available on many different LEGO games across several platforms, so get over there and start thumbing through the virtual bargain bin.
---
Hey all you Animal Crossing fans, I've got a cute little deal for you. The official Animal Crossing Sticker book is only $8. So yes, you can relive your already escapist paradise when you're out in the real world! There's a bunch of activities you or your kid can fill out and try, so if anything it'll hold both your attention for a couple of hours. Y'all know I'm not a fan of Animal Crossing, but that doesn't mean you shouldn't have fun! Grab this deal before it's gone.
---
With everything going on, it feels best to just escape to the great outdoors. But, you need to make sure you're prepared for it. If you tent is leaky (or non-existent) and some of your gear needs updating, you're in luck. Moosejaw's Sunburn Sale lets you save up to 30% on camping and outdoor gear!
What are some items you can grab? Well, Hydro Flask items are on sale, and they're super awesome coolers that'll keep things cold all day. If you need a new, bright lantern, the this BioLite BaseLantern has you covered, and it's $80. If you actually need a tent, why not the Big Agnes, which can fit two people and their gear, and has some built in LED lights to boot?
Whatever you're looking for, this sale lasts until July 4. You have a little time, but don't let these deals slip by!
---
It's getting hot FAST, and you might just be realizing that you don't have enough shorts to make it through the summer weather. Don't go out in a pair of gym shorts or cargo shorts (please), and grab some nice looking chino shorts from JACHS NY for cheap this week.
This deal includes all men's shorts on offer at JACHS NY, but why wouldn't you go with chino shorts? They look great, tend to be a bit dressier than most shorts, and by using code JLY4 at checkout, they're only $32 a piece. But, what kind of shorts you're looking for depends on their use! Dock shorts look a bit better for lounging at home and sleeping in, for example.
Whatever you choose, make sure to grab this deal before it's gone!
---
Yes, I have actually been in the presence of one of these and no it wasn't in the office of an 80's high powered jerk executive. You can grab your PutterBall for the backyard, office, or living room today for 15% off. Just use the code KINJA15.
What's PutterBall? It's a portable turf board, as mentioned before, that can be placed anywhere that's flat. It's got twelve holes at one end and basically operates with the rules of beer pong. It comes with twelve covers to place over the holes once you sink it. The two putters are good for righties or lefties which is a nice touch. Marked down to $170 I'd say this is a great piece to have for indoor and outdoor parties. Or honestly use it as one of my buddies does to practice your touch. He's also a professional caddy. These skills translate.
Shipping is $15.