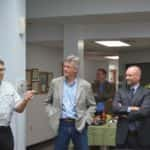 Brownwood News – Former Texas Governor Rick Perry was in Brownwood on Tuesday to endorse Dr. Glenn Rogers in his bid to become the next State Representative for District 60. The two visited patrons at two local restaurants.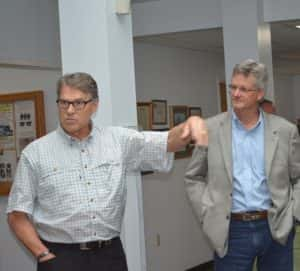 Gov. Rick Perry and Dr. Glenn Rogers
Speaking to a group gathered to meet Perry and Rogers at the Brownwood Regional Airport, Governor Perry said he was happy to endorse Rogers because of his rural roots. "He's solid, he's a conservative," Perry said. "We need that rural representation in Austin, Texas, just having somebody that can sit and share with someone from the city why having a rural agricultural economy and the strength of that is important for the whole state," Perry said.
"Governor Perry is the longest serving Governor in Texas. To have someone with that kind of experience and that kind of background to endorse me means a whole lot. I'm very proud to have Governor Perry's endorsement" Rogers said.
Dr. Rogers is running to become State Representative for District 60 which includes Brown, Coleman, Eastland, Callahan, Hood, Palo Pinto, Stephens and Shackelford counties. He is in a Republican party run-off against Jon Francis. The election is Tuesday, July 14. Early voting runs from June 29 to July 10 at the Brown County Elections Office at 613 N. Fisk Street.