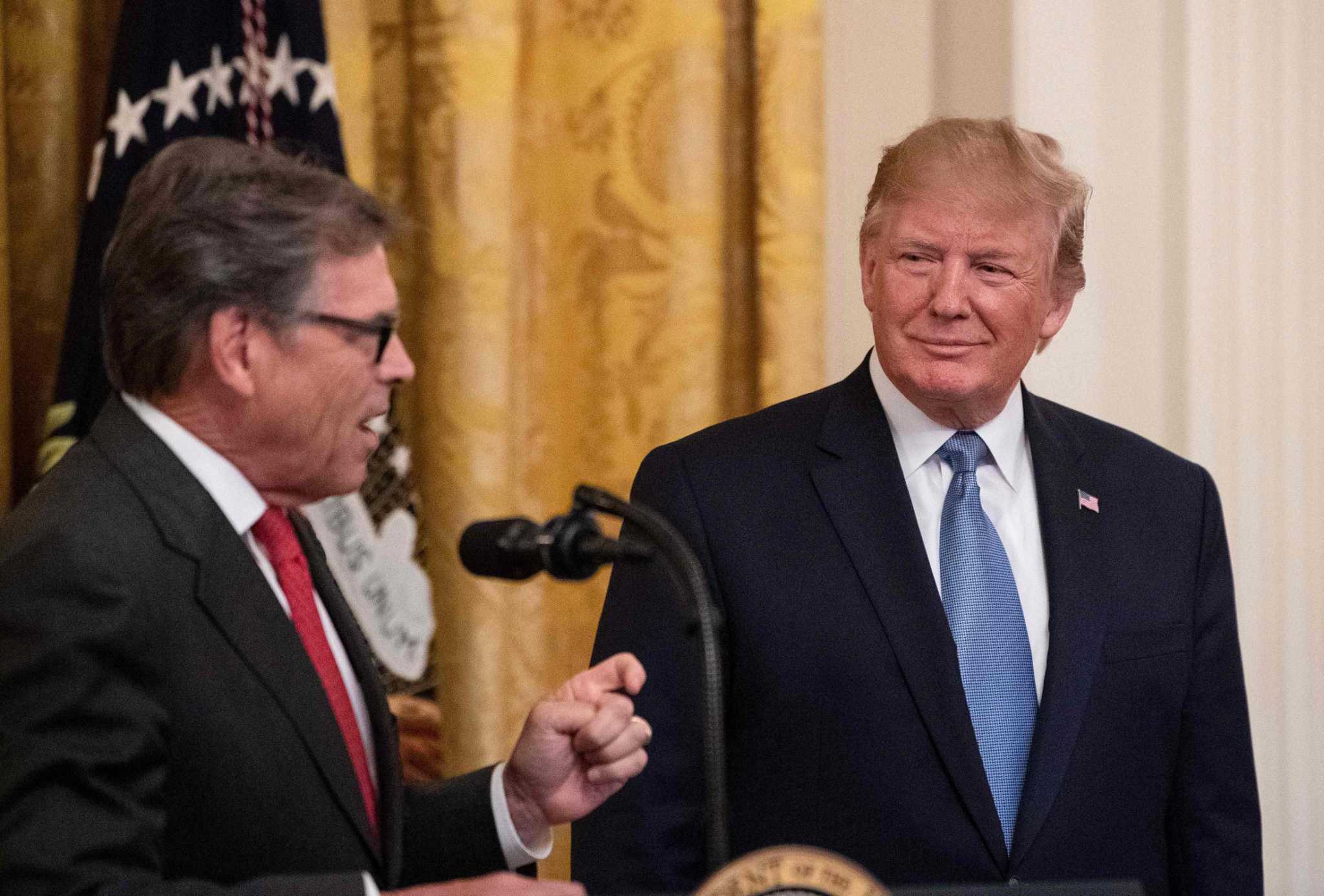 WASHINGTON — U.S. Energy Secretary Rick Perry says President Donald Trump is God's "chosen one" to lead the nation, comparing the president to several Old Testament kings.
"God used imperfect people all through history," Perry, a former Texas governor, said in an interview with Fox News over the weekend. "King David wasn't perfect, Saul wasn't perfect, Solomon wasn't perfect."
Perry told Fox News that he gave the president a one-page memo of "imperfect" Old Testament kings who were sent by God to do great things. He framed his thinking as part of his evangelical beliefs — noting that he also thought former President Barack Obama was chosen by God.
"If you're a believing Christian, you understand God's plan for the people who rule and judge over us and our government," Perry said.
If there is any animosity between the president and Perry, who is leaving the Trump administration at the end of the month, the two have so far kept it between themselves.
Trump last week showered his departing energy chief with praise during Perry's last cabinet meeting. Perry, in turn, hailed the president, whom he called an "extraordinary individual," in his first extensive interview since he was pulled into the ongoing Ukraine scandal that has Trump on the verge of impeachment.
"He will muscle right on through this," Perry said of Trump's chances facing impeachment. "He is an extraordinary individual, to stay focused and disciplined."
Perry, who unsuccessfully ran for president in 2012 and briefly again in 2016, wasn't always singing Trump's praises. Perry in 2015 called Trump's candidacy "a cancer on conservatism" that "must be clearly diagnosed, excised and discarded."
"My fellow Republicans, beware of false prophets," Perry said of his then-rival while addressing a conservative group in mid-2015. "Do not let itching ears be tickled by messengers who appeal to anger, division and resentment."
Trump mocked Perry for wearing glasses, remarking, "He put on glasses so people think he's smart. People can see through the glasses."
Texas Take: Get political headlines from across the state sent directly to your inbox
In recent months, Perry, 69, has emerged as a central figure in the Democratic-controlled House's ongoing impeachment inquiry, which centers on Trump's attempts to push Ukrainian President Volodymyr Zelenskiy to investigate energy company Burisma, which once employed Democrat Joe Biden's son, at the same time that the White House was witholding military aid to the U.S. ally.
Perry was named in the whistleblower report that sparked the inquiry and Trump reportedly told Republican lawmakers last month that it was Perry who asked him to call Zelenskiy in July — saying, "I didn't even want to make the call. The only reason I made the call was because Rick asked me to. Something about an LNG (liquefied natural gas) plant" — according to a report by Axios, citing anonymous sources.
Perry — who has refused to testify or comply with House Democrats' subpoena for records related to the inquiry — has denied any wrongdoing and has framed his work in Ukraine as part of a long-term effort as energy secretary to expand the market for U.S.-produced LNG abroad.
Nonetheless, Perry has popped up several times in sworn testimony, including last week when U.S. Ambassador Gordon Sondland told House lawmakers that Perry and others in the administration knew there was a "quid pro quo" at the heart of the scandal and that they took part in it at the behest of the president.
For subscribers: Scrutiny of Rick Perry's role in Ukraine scandal builds
"I don't see the American people buying into this thing," Perry said on Fox about the impeachment inquiry. Asked whether any Republicans would support the impeachment effort, Perry said: "Oh, lord no."
During the Fox News interview, Perry pushed back against Sondland's testimony, saying "not once was the name Burisma or Biden mentioned to me."
"If there's anyone saying anything different, then they're surmising — and that's not a wise thing to do," said Perry, who served as Texas governor from 2000 to 2015. "I know what I saw, I know what I heard."
"He basically said, 'I want you to go sell LNG like the world looks flat,'" Perry said of Trump's directions to him. "He said, 'Perry, here's what I want you to do: I want you to go do for American energy what you did for Texas.'"
"And I said, 'I've got it, Mr. President,'" Perry said. "And that's what we've done."
ben.wermund@chron.com