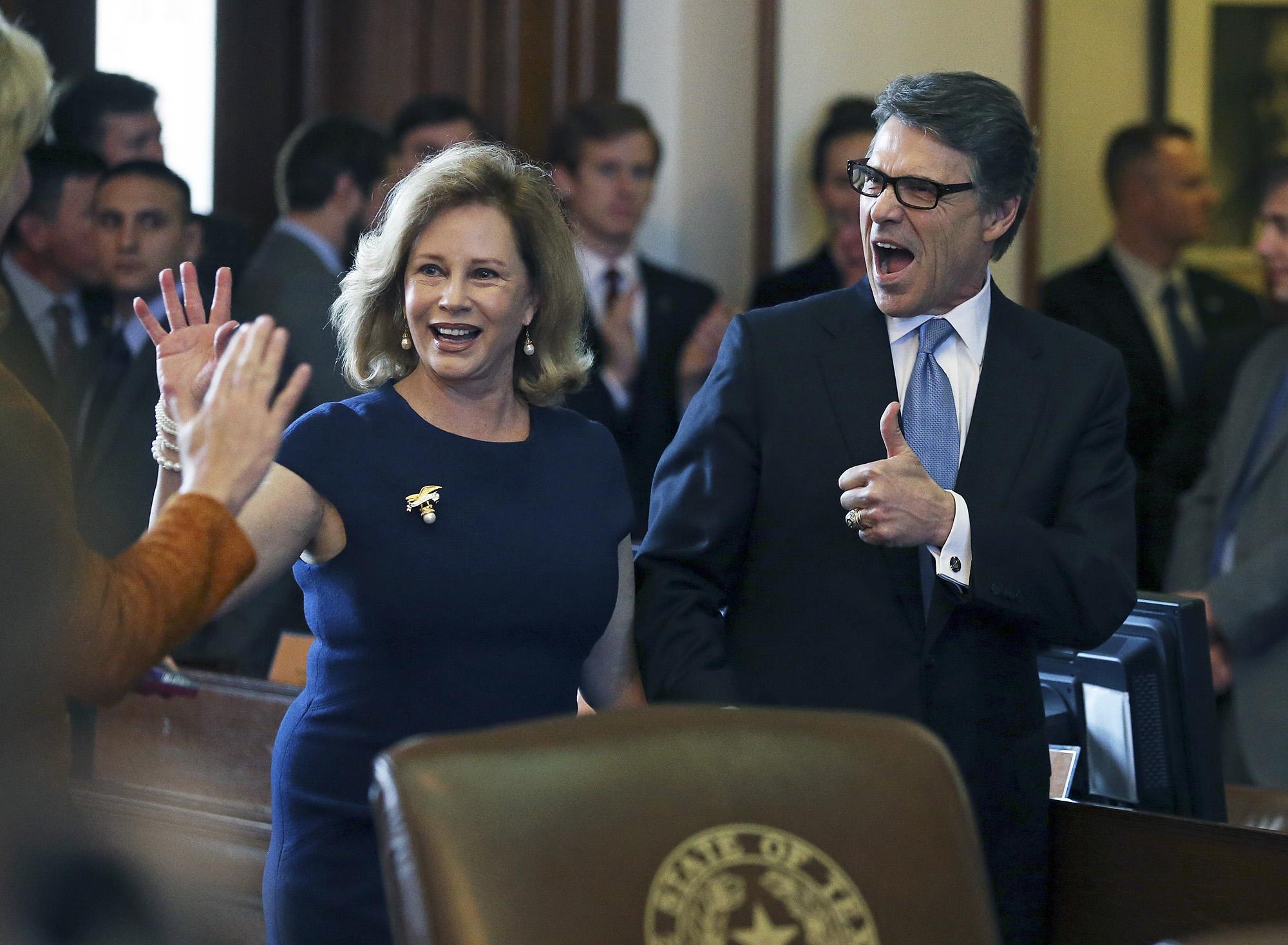 AUSTIN — U.S. Energy Secretary Rick Perry left the Texas governor's mansion four years ago. But he is still tapping his Texas campaign account to fly wife Anita Perry around the globe for nuclear talks and to speak at international energy meetings, records show.
In Paris last year, Anita Perry spoke at a women in energy event. She also appeared alongside her husband in South Africa on a panel about natural gas, social media accounts show.
Most recently, the campaign paid $17,000 to fly Anita Perry to and from London last March for Saudi nuclear meetings, finance reports show. It's not clear what role Anita Perry — a nurse — played at the closed-door talks, though campaign finance reports said she went for government related activities.
While spouses occasionally accompany cabinet members on foreign work trips, ethics experts said it's unusual for them to participate in official functions.
"It's just not an area where spouses have traditionally been involved," said University of Minnesota law professor Richard Painter, who served as chief White House ethics lawyer under former President George W. Bush. "We don't have a first lady to the Treasury Secretary."
The Department of Energy said Anita Perry doesn't have a security clearance and hasn't participated in any meetings requiring one. All her travel is reviewed and cleared by a department ethics official, said agency spokeswoman Shaylyn Hynes.
Rick Perry is one of several Trump cabinet members who have come under fire for racking up expensive bills on chartered jets and first-class flights.
When Anita Perry has accompanied her husband on international trips, the Department of Energy says taxpayers aren't paying the bill. State campaign finance records show that Texans for Rick Perry — the campaign account that bankrolled the Republican's runs for governor — has picked up the tab for at least $60,000 worth of her flight costs.
"Mrs. Perry has traveled with Secretary Perry on occasion, adding valuable support to him as he advances DOE's mission abroad," Hynes said in a statement. "As these filings confirm, no taxpayer dollars have been spent on Mrs. Perry's air travel and funding for it is authorized under state and federal laws and regulations. The Department of Energy follows federal travel regulations without exception."
A 'health, women and economic development advocate'
Anita Perry graduated with a master's in nursing from UT Health Science Center in San Antonio and has called her career in health care "a great source of pride."
During 2017, the campaign paid roughly $50,000 to cover her travel to Vienna, Cape Town, Rome and Paris for events including Africa Oil Week, a G7 meeting and an International Atomic Energy Agency conference, records show.
Anita Perry traveled to Rome in April 2017 for a G7 energy ministers meeting as part of the official U.S. delegation. There, she spoke at a side event called "Africa 2030: Empowering the continent through innovation, green tech solutions and capacity building," according to Politico.
In Paris last year, Anita Perry delivered a speech at a Women in Clean Energy event, where she was listed on the program as the former first lady of Texas and a "health, women and economic development advocate."
Anita Perry flew to Cape Town in October 2017 as part of the department's official delegation to Africa Oil Week, according to trade publication E&E News. Rick Perry's campaign account reimbursed the U.S. Department of Energy for the cost of her flights, campaign finance reports said.
The department didn't answer specific questions about each trip.
Some raised concerns about the use leftover campaign cash to cover Anita Perry's airfare, though Ed Shack, an attorney for Texans for Rick Perry, said the spending is allowed under state campaign finance rules.
Texas candidates who leave office with leftover campaign money can give it away to charity and political campaigns or use the money to cover officeholder expenses. In past opinions, the Texas Ethics Commission has said the money can cover those costs when a candidate moves to federal office. Spending on a spouse is OK, so long as it's in connection with the officeholder's duties, the commission has said.
Former members of Congress have used excess leadership PAC money to fund travel for spouses, said Melanie Sloan, with American Oversight in Washington D.C. But Craig McDonald of Texans for Public Justice said the campaign money wasn't given to be used as "a personal travel fund for former state officials."
Texans for Rick Perry still had nearly $80,000 in the bank as of its last report in July. The next filing, due in January, covers spending in the second half of 2018.
Former Energy Secretary Ernest Moniz took his wife on two foreign work trips, including one to Brazil which the couple paid for and another to a presidential inauguration in Paraguay which was covered by the government, according to Politico and E&E News.
amorris@express-news.net