Graphic: Gabe Carey
Best Deals of the Day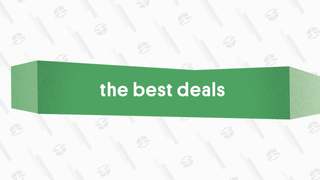 Best Deals of the Day
The best deals from around the web, updated daily.
A steep Gold Box discount on Batman Beyond: The Complete Series, a multiplatform sale on Mortal Kombat: Aftermath, a 30-piece Japanese snack assortment, a Keurig K-Mini single-serve coffee maker, and a pack of 48 Anker AA batteries lead Monday's best deals.
Bookmark Kinja Deals and follow us on Twitter to never miss a deal!
G/O Media may get a commission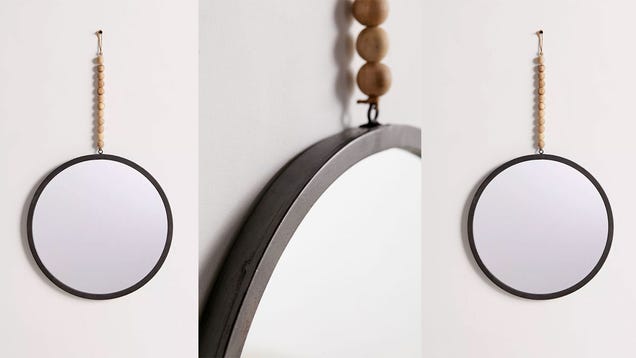 Beaded Hanging Mirror
Entertainment is one of the most shocking monthly expenses when you're poking around the bank account looking for ways to save. Some people spend hundreds to keep themselves joyous without even realizing it. The cable bill probably adds the biggest singular chunk, though, and if you've deemed it's time to cut back, you have no shortage of options to fill in the gaps. If you've decided you're fine with over-the-air broadcasts using an HD antenna but you still want your DVR features, an Amazon Fire TV Recast is an excellent buy, especially at $80 off, and especially if you're already knee-deep in Amazon's digital content ecosystem.
Combined with an antenna and an Amazon Fire device—whether that's Stick, Cube, TV, or Echo Show—you'll be able to record up to four shows simultaneously, and it'll hold up to 150 hours worth of recordings. You can also grab the two-stream, 75-hour unit for $150 if you're dealing with a smaller household. And it wouldn't be an Amazon product without Alexa butting into everyone's business, so she'll be there to help you find stuff to watch, too.
This deal was originally published by Quentyn Kennemer on 4/20/2020 and updated with new information on 7/20/2020.
---
If you're looking for another way to listen to tunes, I would invest in a pair of Anker Soundcore Neo Headphones. They're down to $33 and can handle Netflix binges, or Pop Smoke's new album. They connect to your phone, tablet, or laptop easily with Bluetooth and comes with a case that charges with a USB cord for about 3.5 hours of straight listening time. I would grab this before it's gone.
---
Personally speaking, rechargeable batteries are invaluable. Sure, you pay more up front for less physical cells, but you can easily rotate them in and out for charging, you should save money in the long run, and you'll cut down on some of the hardest waste there is to discard. But if you still have a regular and peculiar need for disposable AA batteries, give Anker's a shot. There are 48 of these alkaline batteries in one package for just $13. Anker advertises a 10-year shelf life, so you should stock up now even if you aren't planning to use them right away.
---
The Anker 65W 4-Port charger is down to $38, no code needed You'll be able to charge four devices at once, and the charger itself is thin and can plug into any traditional socket. I don't think your phone or tablet will be dead ever again. Grab it before it's gone!
---
Sure, sometimes it seems like you've reached the end of Netflix's good content, but there's still plenty of great movies and TV shows to watch while we're stuck indoors. Now's a good time to get started on FX's Mrs. America, or you could always give MIddleditch and Schwartz a try if you need a good laugh. Right now, you can get a Roku Ultra HDR 4K for $69 at Amazon, saving you $31, which you could always use to rent Uncut Gems and watch it with the family this weekend.
The Roku Streaming Stick+ is also enjoying its own $11 discount, bringing your total for 4K viewing on any TV you want to just $39.
This deal was originally published by Jordan McMahon on 5/18/2020 and updated by Quentyn Kennemer with new information on 7/20/2020.
---
These last few months have been tough, and there's unfortunately no end in sight if you want to be safe. Visiting friends and family out of town may not be happening anytime soon, but you can get the Echo Show 8, now $30 off, and still have a face to face conversation with them! Sometimes just a phone call isn't enough. The Echo Show can also do other things, like make it easy to follow along to recipes, get a quick look at the weather, and more. If you're looking for an addition to your smart home, the Echo Show 8 might just be it.
---
Love Fortnite? You're certainly not alone! But if you happen to be like me and absolutely suck at using keyboard and mouse controls, maybe AUKEY's Fortnite themed keycap set can help you out. Each key used in the battle royale is labeled with simple, easy to read at a glance icons that can help you stop fumbling around your keyboard and start building with ease. The keycaps can fit on any mechanical keyboard with cross-shaped switches (which is pretty common). The whole set is only $14 if you clip the coupon and use the code KINJAMA2!
It won't help your aim, though.
In the world of Elder Scrolls, sweet rolls are serious business, and now you don't have to use your imagination to pretend you know why. Grab The Elder Scrolls: The Official Cookbook for just $18 and get access to that and dozens of other recipes inspired by the homeland cuisine of the Bosmer, Khajit, Nords, and more.
Feast on all of the delicious dishes found in Skyrim, Morrowind, and all of Tamriel in this beautifully crafted cookbook based on the award-winning Elder Scrolls game series. Immerse yourself in the diverse cuisines of the Nords, Bosmer, Khajit, and beyond with these recipes inspired by food found in the Old Kingdom, across Tamriel, and more. With over sixty delicious recipes for fan-favorite recipes including Apple Cabbage Stew, Sunlight Souffle, Sweetrolls, and more, The Elder Scrolls: The Official Cookbook will delight every hungry Dragonborn.
And if anyone tries to steal a sweet roll from the, er, sweet roll pan, just shoot them with an arrow (preferably in the knee).
---
Ready for a bloody, gory good time? The Mortal Kombat 11: Aftermath Kollection is now just $34 on PS4, Xbox One, and Switch, or 43% off the MSRP. Seeing as the game is only recently released, that's a pretty steep discount!
This isn't just Mortal Kombat 11, either—this kollection includes the base game, the Kombat Pack with the first batch of DLC kharacters, and the Aftermath expansion. The expansion all by itself retails for $40, so even if you have the base game, you might want to just pick up the kollection if you don't have the Kombat Pack!
This deal was originally posted by Elizabeth Henges on 7/5/2020 and updated by Quentyn Kennemer with new information on 7/20/2020.
---
Some Switch titles just don't go on sale very often, and one of those titles is Mario Kart 8 Deluxe. The Switch port of the Wii U racer is a popular multiplayer title, but even years after its re-release, you still need to pay the full $60 for it. Right now at Amazon, you can grab the title for $50. A discount is a discount!
Seriously, it's worth it too. With all sorts of tracks, characters, karts, and modes, there is endless fun in Mario Kart 8 Deluxe for game nights. It's beginner friendly too, so most players won't get completely beat over and over like they might with other games. Fun for everyone!
Now if Switches would stay in stock for more than five minutes…
---
Puyo puyo! Over the years, there have been many iterations of Kirby, all of them adorable. This art book chronicles the history of the pink puffball and his various enemies as well as the concept art that helped them take shape. It also features, according to the description on the back cover, "exclusive notes from creators and artists who have brought Kirby to life throughout the years." Personally, I'm fascinated with the making of Kirby and the Rainbow Curse, whose in-game models were literally sculpted from clay.
However, if you're looking for a good recent Kirby game to pick up alongside this collection, I recommend Kirby: Planet Robobot in which, yes, our adorable lil' buddy suits up in a mech to fight back against an evil corporation gentrifying his home planet with destructive technologies. For a recent, not-as-good-but-still-okay Kirby game on Nintendo Switch, Kirby: Star Allies is still fun to play co-op with friends, despite its shortcomings.
---
Green Man Gaming's summer sale kicked off yesterday, and one of the best deals you'll find is a digital copy of Call of Duty: Modern Warfare for $39. It's the only game in the series this generation I haven't been able to put down after a couple of months, mostly thanks to the highly addictive Warzone battle royale mode and its variants, plus a gross amount of gun game, both 2v2 and 3v3.
There's more, of course, including a meaty multiplayer with globs of rotating modes and playlists, and there's a short, but sweet story campaign for those who protested its removal from Black Ops IIII. Buy it from GMG and activate it on Battle.net.
---
It's amazing to me that The Legend of Zelda: Breath of the Wild launched more than three years ago, and it's still selling for full price. We've seen it dip a few times in the past, but those discounts are far and few between. Today, we're seeing a decent $10 cut at Amazon for those who have yet to experience this vast open-world adventure featuring beautiful vistas to tickle your exploration bone.
---
If you still haven't played Death Stranding, then you're in luck, as it just came out for PC two days ago and it's already marked down 20% as part of Green Man Gaming's newly launched Summer Sale. Join Norman Fetus in 2019's best strand game about the gig economy. From what I've heard, it's the perfect game to play at this moment in time, and for good reason: it's about a courier who also has to dispose of corpses found lying around because America has fallen apart. It serves as sharp, if hamfisted political commentary AND comic relief.
In her review for Kotaku, Heather Alexandra said it best:
It is a story about fatherhood. It is a broad dig at the gig economy. It is deeply concerned with upcoming environmental disaster and American politics, old and new.

Death Stranding is also about throwing grenades made from your own piss and shit at ghosts. It is about hiking alone in the wilderness for hours. It is a tireless grind.
Apart from Death Stranding, other newer, albeit less recent releases like Red Dead Redemption II, Shadow of the Tomb Raider Definitive Edition, and Borderlands 3 are also on sale. Sort through the whole selection over on Green Man Gaming's Summer Sale lander and report back with any remarkable findings.
---
Real quick: Go pre-order Far Cry 6 at Amazon. The standard edition is $10 off, and you won't be charged until your order ship! Plus, Amazon guarantees same-day delivery and promises to adjust your total automatically should the price drop any further.
Copies are available for both PlayStation 4 and Xbox One.
I've gone through phases where I love those box subscription companies that specialize in snacks from around the world. They're a really fun way to step outside of your candy comfort zone and try new things. I'm a massive fan of Japanese food and snacks and am lucky enough to a few spots in my neighborhood to grab some. But if you aren't that lucky here is a great option, the Samurai Dagashi Set for $14.
There are two size options. I'm sharing the thirty piece set because it is only a dollar more than the "small" twenty-five piece bag. Dagashi is just a single packaged candy/snacks, which makes this great for sharing. Customers have noted that these bags have great variety from some of the most popular brands. Most of the packaging however is in Japanese but lots of pictures help you figure out what each might be. If you're feeling adventurous pick up this Gold Box deal today.
Free 1-day shipping for Prime members.
---
There's nothing worse than getting all ready for the day and your car battery being out of commission. And yet, this is something we deal with all the time. Well, no more! In 2020 we're getting ahead of our problems and buying a jump starter.
This one is only $30 when you clip the coupon and type in the promo code NTXSKLJT at checkout and can be able to resurrect any 4.5L gasoline engine easily. It also comes with a dual USB-port to charge all of your electronic devices if you're in a pinch. Plus, the jump start is equipped with a handy flashlight just in case you're in the middle of nowhere.
This deal was originally published by Ignacia Fulcher on 4/21/2020 and updated by Quentyn Kennemer with new information on 7/20/2020.
---
I'm a big fan of these single-serve K-cup machines because I often make too much coffee and waist good grounds. As a coffee lover, something easy to get me going in the morning is welcome, especially when I'm already sleepy the easier to operate the better. This Keurig K-Mini Plus is $60 at Best Buy today, which is a savings of $40 off the usual price.
All four color options are on sale too, which is great if you're trying to match it with over appliances or get it to blend into whatever is already on your counter. It's slim so it won't take up much space and it has it's own K-pod storage of up to nine of the little java units. You can use any K-pods in this machine as long as they are the same size. Most travel mugs fit snug right up to the drip so if you're on the move you'll have fresh hot joe too.
Free two-day shipping on this item.
---
Whether you're just assembling some light furniture or trying to tighten a deadbolt, if you don't already have some, Walmart is letting go of a 116-piece set of tools for just $20.
You'll get a hammer, mini screwdrivers, a screwdriver with interchangeable bits, a wrench, pliers, and a ratchet with all its different head options, and so much more, all neatly packed into a solid carrying case. It ships immediately.
---
If you're more vulnerable to allergies and illness, this RAYCOP Lite allergen vacuum seems like something you ought to consider owning. A refurbished unit is $89 at MorningSave. Here's the descript:
RAYCOP LITE is powerful and versatile to use on a variety of home fabrics, clothes and even a yoga mat.
Unique features of RAYCOP allergen vacuums include a dual filtration system incorporating a high efficiency particulate air (HEPA) filter, which is proven to capture 99.9% of common allergens.
Additionally, the combination of ultraviolet light technology, optimized suction, and pulsating pads in RayClean Technology is 3x more effective at capturing pollutants than a regular vacuum.
This recertified product is sanitized at the warehouse, and you'll have a full 90-day warranty to see whether it'll hold up for the long haul.
---
Summer means cookouts for most people, or at least it did. As we navigate what's proper and what we are comfortable with the summer BBQ has taken a new shape. If you're lucky enough to have a backyard maybe you've had a few friends correctly social distancing over for hamburgers and hangouts. Whether you're staying in place during the dog days or headed out into the wild this easy to travel grill station will perk up any pleasant picnic for just $79.
Although the legs are durable and steel you can set this delightful grill station from Coleman up pretty much anywhere. The side handles ensure smooth transport too. It's easy to fill with coal and shouldn't be too hard to get that fire going with just a match. The grill surface is designed for an even heat that you can control. It's also built for easy clean up with the removable charcoal tray so no extra mess when bringing this thing back home. It's also rustproof so if it's left outside it'll still be good as new no matter how many times you use it this summer season.
If you've read a few of our pieces on MorningSave before and you like what you've seen they offer a $5 monthly fee to get free shipping on all of your orders no matter how many. Otherwise, it's a flat rate of $8.
---
We could all use a little T.L.C. right now and if you can save some money while doing so all the better. This wireless percussion massager is currently on sale for $49. That's 25% less than comparable ones on the market, so no additional headaches about money.
This massager has three pressure settings and can make it will feel just like a professional spa appointment. There are also three interchangeable attachments depending on your needs. Flathead, foot sole, and spinal each have specific targets. But even basic rounded massager head on its own sounds divine as it helps break up tension or knots. I know some backs that could surely use that. You get about two hours of relaxation between charges.
If you've read a few of our pieces on Meh before and you like what you've seen they offer a $5 monthly fee to get free shipping on all of your orders no matter how many. Otherwise, it's a flat rate of $8.
---
If you have an older car, you probably don't have access to this new wave of smart car technology. You may not want to pay to get any of it installed, either. It can get pricey quick! Instead, you can pick up this car adapter for just $16 by using the code 45791TSH at checkout and have (some of) the same features. You'll be able to listen to your music and talk wirelessly, and it doesn't take up your adapter port either! It's a pretty good deal if you want some conveniences in your car!
---
I firmly believe that these pool floats make great decorations outside of their water activities so fear not if you have no pool or beach to bring them too. Amazon has graciously given us a code for 30% off this adorable unicorn from Sable. Just put KINJA119 in at checkout and save $5.
This national animal of Scotland is magical, charming, and obviously very cute. Sable makes most of the pool floats you've seen and they are absolute quality. They can withstand the hottest of days and handle up to 220 lbs. This mythical beast is 48 inches in diameter, so ideal for lounging. They do include a repair kit just in case your mystical pony gets a tear or leak. But that's rare in our experiences.
One day free shipping for Prime members and the deal runs until July 22.
---
Pressure cookers are for those who are less patient when it comes to food prep. But you do get your money's worth if look at power to price. You can do a lot with cheaper foods and slower dishes in a pressure cooker. Chefman's XL 8-Quart Programmable Multi-Function Pressure Cooker is $81 off right now and it's what you've been searching for.
This is a larger model so if you have a big family or are an expert in meal prep this is definitely the appliance for you. The presets help get everything just right instead of making educated guesses. There are ten presets for pressure cooking, four for sloe cooking, and four for steaming. You'll also see sear, sauté, 'Keep Warm,' and 'Delay Start' to ensure every meal is perfectly prepared. The lid locks in place for safety and all the accessories are dishwasher safe. This particular one is black and stainless steel and will blend in with whatever else you have on your counter.
If you've read a few of our pieces on MorningSave before and you like what you've seen they offer a $5 monthly fee to get free shipping on all of your orders no matter how many. Otherwise, it's a flat rate of $8.
---
There are few reliefs as gratifying as finally having clean floors again. Small apartments may be able to get by with a quick sweep, though it doesn't always do the trick, and that takes forever in larger apartments and homes. A good vacuum cleaner, like the Dyson V8 Absolute, can help speed up the process and pick up the specks you might otherwise miss. Typically, it'd cost you about $300, but it's down to $220 on Newegg. That's still a hefty price tag, but Dyson vacuums earn their price tag, and you'll be able to carry this one with you long after your lease is up.
---
As I expressed in an earlier Co-op, I'm on the prowl for my first cordless vacuum. So while I can't vouch for the Dyson V7 Origin myself, hearsay suggests it's one of the better options out there (let me know what you think in the comments), and Dyson generally makes high-quality products which makes this deal hard to ignore: Newegg is selling the Dyson V7 Origin Cordless Vacuum, down 50% from MSRP.
In reality, this vacuum hasn't been $400 in a while, if ever. On Amazon, where it currently sits at $290, the list price is $400. Still, you're saving $90 over Amazon, where the lowest it's been is $230. With a 0.14-gallon bin and 75% more brush bar power than its predecessor, the Dyson V6, you'll get the capacity and the performance of some proper corded vacuums without any of the limitations. Better still, the head is interchangeable, so it can double as a car vac or traditional hand vac if need be.
This deal was originally published by Gabe Carey on 6/10/2020 and updated by Jordan McMahon with new information on 7/16/2020.
While I don't follow hockey religiously myself, I used to live in Pittsburgh and, before that, New England, so I'm no stranger to those who do. And if there's one thing I know about hockey fans, it's their uncompromising team loyalty. To help you represent your own, Adidas is selling authentic NHL pro jerseys for $68 using the promo code EXTRA25 at checkout. Whether you're a hardcore PGH Penguins or Boston Bruins fanatic, you can show off your home team pride with some heavily discounted officially licensed swag.
---
Image: Huckberry
While it's still unsafe to travel to populated areas in the U.S. due to the ongoing COVID-19 pandemic, if you're looking for a cheap getaway to clear your head, I highly recommend taking a hiking trip within your own state for the day. And whether you pack heavy or light, the Mission Rover from Mystery Ranch will help you come prepared with all the gear you'll need to survive the summer heat out on the trails. Now 30% off at Huckberry, this 43-liter bag is TSA-approved and features discrete compartments to separate your clothes from your toiletries and stow away your laptop in the included 15″ sleeve.
---
It's time for Everlane's fabulous Summer Sale! Most items are discounted between 20% and 40% but there are a handful of pieces up to 50% off. Both the men's and women's section is included in this sale but the best variety of options is definitely on the ladies' side.
Lightweight linen short sleeve shirts are perfect for summer and are now only $40. The indigo color would look great with a pair of jeans or shorts. Speaking of, skinny jeans are also just $40 and there are three washes on sale. Now top the look off with Everlane's classic trainers for $49 with all four colors on sale.
This sale runs until July 26 and no code is needed. Grab free shipping when you sign up for their email list if this is your first time ordering. Orders over $75 ship free too.
---
Who doesn't love a good clearance sale? The chance to get new clothes at a deep discount is hard to beat. From now until the July 22, you can save an extra 50% off of Express's clearance stock, for both men's and women's styles. Very nice!
The only hard part of a clearance sale is sifting through the items available for something you want. Maybe this very pretty midi dress piques your interest? This simple lacy tank top? A classic dress shirt? There is all that and way, way more available at Express. Get to shopping before this deal is done!
---
Have a bunch of solid colored, boring shorts? It's time to spice up your shorts game! JACHS NY has a slew of printed shorts, and right now they're a low $19 a piece if you use the code PRT at checkout. These babies usually go for $89, so to say this is a good deal is a bit of an understatement!
There are a few different prints you can grab, as well. There are louder prints, such as the classic Hawaiian print short, as well as the more muted lure print. Whatever your style, don't let this deal pass you by!
---
Camping lanterns are a great thing to have, even if you don't go camping often. The bright light is perfect if you have a power outage at night, which is the prime usage of my camping light. I mean, it's also super useful for illuminating a tent… obviously. Anyway, get two of these babies for just $18 at Amazon right now. These Eveready lanterns have two modes, as well—the standard lantern and a directed light that's similar to a flashlight. Why wait? Go ahead and get this two-pack today and be prepared.
---
As the great Rihanna once said, "Cheers to the freakin' weekend." To celebrate the fact it's Friday, Sunday Scaries is giving Kinja Deals readers 40% off their CBD starter pack with free shipping on each order. I recently received a sample of this exact bundle myself and have safely enjoyed recommended portions of the Gummies for Chillin' and Unicorn Jerky so far. The latter in particular reminds me of those Sour Punch Straws you'd find at movie theaters in the early aughts. Also included are YOLO shots and a vitamin D3- and B12-infused oil tincture designed to relax and refresh.
Under ordinary circumstances, this pack would set you back $170, but because we like you, it's $97 for a limited time. Even for those long poisoned by irony, I guarantee you'll get a chuckle out of the shipping label on the box. Mine was addressed to "Lord Gabe Carey of Winterfell," leaving a confused look on my doorman's face when he handed me the package. Unbox it for a perfect description of the experience to come. "Taken by young professionals, entrepreneurs, college students, moms, and yogis who want a healthy and non-habit forming alternative for chillin' the f*&k out."
It's impossible to talk about Ready Player One, the book or the Spielberg-adapted film without acknowledging the polarity of its content. The sci-fi novel debuted in 2011 is set 43 years later, in a world devastated by climate change and economic collapse. However, rather than touching on these very real issues, Ready Player One instead tells a virtual reality escapism story, wherein a teen boy named Wade Watts has to hunt down "eggs" by understanding pop culture references from the '80s and '90s. Love it or hate it, the sequel is on sale for $19 on Amazon and releases November 24, 2020.
---
One of the best Batman renditions of all time, you can now score a box set of Batman Beyond: The Complete Series on Blu-Ray for just $50, a 50% discount from MSRP. That comes with six discs packed with 52 episodes across three seasons of animated Batman action, which somehow gets more respect as a cartoon than Val Kilmer's masterful performance in Batman Forever ever will. (Don't fight me on this!) Anyway, you'll also get some art stills and a Funko doll in this limited edition package for your trouble.
---
I had no clue that Ta-Nehisi Coates, author of titles such as We Were Eight Years in Power and Between the World and Me, wrote some of the modern Black Panther arcs. I'm not the biggest comic book reader, but with Coates' two volumes of Black Panther on sale for $6 each, I might just need to snag these for myself.
These Black Panther collections are just part of ComiXology's Latest and Greatest Sale, which gathers up many of Marvel's modern hit collections and give them a nice, deep discount. This sale lasts until July 30, so you still have time to grab what you want, but don't wait too long!
---
If you're into combat sports, you know Bruce Lee. If you're not into combat sports, you know Bruce Lee. If you haven't been born yet, you know Bruce Lee. This legendary martial artist died way too young, so if you're feeling a bit nostalgic and want to relive the glory days of him kicking holes through human chests, check out this big collection of Bruce Lee's biggest hits on Blu-Ray, which was once $125 and discounted to $92 a few months ago. Now, it's plummeted even further to $62!
You'll get five remastered movies in the bundle:
The Big Boss
Fist of Fury
The Way of the Dragon
Enter the Dragon
Game of Death
That's about as solid a starter pack as you're going to find.
This deal was originally published by Quentyn Kennemer on 4/23/2020 and updated with new information on 7/17/2020.
---
Hey! Umbrella Academy Season 2 will be on Netflix at the end of the month. Neat! That's still almost three weeks away, though, so what will you do in the meantime? ComiXology has the answer with a sale on the Umbrella Academy comics! Perfect timing, eh?
This sale includes three volumes that gather up Umbrella Academy's three major series, as well as the individual issues if you're just missing some of the stuff. For those new to the series, it's just $5-6 a volume, so for a grand total of $17 you can read the entire comic series while you wait for the next season. Not bad!
This sale lasts until July 27th, but you'll want to get started on those comics now, so pick them up sooner rather than later!
Done with cable? If you're not much of a TV person and you just want to catch your daily news and Judge Judy episodes, perhaps a digital antenna is all you need. AUKEY's is already cheap enough on its own, but it falls to an insanely low $7 with promo code OYFSVLVF.
Shipping with a signal amplifier and a 10-foot coaxial cable, AUKEY claims it serves up all local HD channels within 80 miles, but keep in mind those claims are usually based on more-than-ideal circumstances.
Even if you only get half that range, though, you should be in good shape. And you'll be ready for 4K TV once the new ATSC 3.0 broadcast standard is rolled out later this year, so don't hesitate to pull the trigger.
This deal was originally published by Quentyn Kennemer on 4/22/2020 and updated with new information on 7/17/2020.
---
Now that every last one of us is Extremely Online, it's time to start thinking like an internet veteran, and according to our own work from home starter kit, one of the best places to start is with a VPN. Among them, ibVPN is one of the most universally acclaimed clients, and their annual Ultimate VPN plan is $50 right now using the promo code KINJA50.
Priced at $11 a month or $58 per year at its usual rate, this limited-time discount brings its cost down to just over $4 a month, or $50 each year. According to the site, it includes the following features:
High-Speed Connections
P2P/Torrents Allowed
5 Simultaneous Connections
Proxy Servers In All Locations
Socks5 Proxies
TOR over VPN
Double VPN
Unlimited Bandwith
NAT Firewall
OpenVPN, L2TP, PPTP, SSTP,
SoftEther, IPsec
Stealth VPN
High Priority Support
Versus other plans on the service, this one seems to be the complete experience. The stealth VPN, TOR over VPN, and Double VPN functionalities are exclusive to this plan while even Sock5 proxies are limited to this and the TorrentVPN plan. So if you're looking to save on a reputable VPN, this might be your safest bet.
---
Do you have earbuds that block out all sound when you're outside running or are you a hiker who hears virtually nothing but your tunes? This might be a problem you didn't realize as you should more be engaged with your surroundings when breaking a sweat. Plantronics Backbeat FIT 3150 True Wireless Sport Headphones are here to help all for $100.
Several customers noted that being able to hear what's going on around them as their motivation for purchasing these. You absolutely want clear and crisp sound coming through your earbuds when you workout, don't get me wrong, but not being able to hear anything else is scary. I've been there and it's not pleasant when another runner sneaks up on you, or you don't know a biker is yelling that they are approaching. They call this feature of the eartips, "Always Aware." But beyond that, reviewers also noted they are comfy and sweatproof. They fit securely in the ear and the built-in mic is just a good as others on the market. One reviewer said he only uses these for work calls because they are so comfortable. You'll get up to eight hours off of one charge. It pairs easy with Bluetooth and you're saving 33%.
Best Buy offers free shipping on this item.
---
Most of the time, our phones are pretty great at capturing the shots we want. High-end phones like the iPhone 11 Pro and Google Pixel 4 even come packed with multiple lenses to help you get your framing just right. But if you've got a device with fewer lenses, or you just like having as many options as possible, you might consider grabbing one of Moment's attachable lenses, which are on sale for up to $50 off right now.
If you're just looking to get a wider view of a nice scene, there's a wide 18mm lens, a 58mm telephoto lens, and even a 14mm fisheye lens if yous to get a little funky with your shots. You'll need a case to go with those lenses, though. Whether you've got an iPhone or a Pixel, there's an option available. There's also a Galaxy case that's $20 off, if you're looking to give this to your Samsung-toting pal.
---
Remember Zoom? No, not the videoconferencing software, but the PBS show—ZOOM! SeaVee's limited-edition Legend sneakers are Zoom in shoe form, an homage to the '80s made using Hoffman California fabrics. They're bright, gaudy, and I'm absolutely here for it. But let's say neon lights aren't your aesthetic. That's fine. Over at Huckberry, a wide range of SeaVee's sneakers are marked down up to 40%. If your feet are as tired from all the socially distant walking around this summer as mine are, this offer is too good to pass up.
---
It's not enough to have gotten Scorbunny as your starter, use it to demolish the entirety of Pokemon Sword and Shield's NPC population, and then proceed to spam it in raid battles because it now has the coolest G-Max form and hidden ability in the lands.
And walking around with your Cinderace at the Isle of Armor is cool and all, but you can't bring your bunny obsession full circle until the little fiery furball is staring you dead in the face every time you play your Nintendo Switch. Let it accompany you on all your Switch adventures with this specially designed PowerA controller, which is only $32 when using exclusive discount code 20POWERA20 at Amazon.
Wireless freedom using Bluetooth 5.1
Features motion controls and mappable advanced gaming Buttons
Leds for player number, button mapping, and low battery warning
Includes two AA batteries for up to 30 hours of gameplay
Officially Licensed by Nintendo and the Pokemon company International with a two-year warranty
P.S.: Though not as sweet as deal, you can also grab Sobble and Grookey for $40 using the same code! That's 20POWERA20. 20POWERA20. 20POWERA20.
---
For just $19, you wouldn't expect to get a pair of headphones with active noise cancellation, 40mm drivers, 24-hour battery life, and a foldable form factor for travel, but that's exactly what these TaoTronics headphones provide. Just clip the coupon at Amazon and enter promo code KINJABH47, and you're golden.
---
Popping pills to numb the pain shouldn't always be your first and only resort. Sometimes, a good heat massage is all you need, and with a $29 Vivaspa shiatsu massager at MorningSave, there's no reason not to keep this helpmate on standby. Although it's advertised as being perfect for the neck and lumbar, you could technically use this on any of your aching muscles. With two heated kneading nodes working out all the kinks, you can afford to put off a couple of those expensive spa days.
This deal was originally published by Quentyn Kennemer on 5/15/2020 and updated with new information on 7/17/2020.
---
With all that coffee you're drinking, maybe it's time to re-up your toothpaste supply. Colgate is selling three tubes of their Optic White whitening paste for $12, a whole 33% off the usual rate. Gluten-free and enamel-safe, this toothpaste uses hydrogen peroxide as recommended by dentists to ensure an uncanny sheen. Brush twice daily for 6 weeks and watch those coffee stains disappear. Find out why one reviewer called it "the best toothpaste ever. Try it and you will be amazed how it whitens your teeth." If that's not a glowing endorsement, I don't know what is.
---
Oh, the joys of owning a larger vehicle. Not only does it cost more for parking in just about every city I've ever been to, but the jump starters, too, come at a premium. On the bright side, they occasionally go on sale for 40% off, as is the case with the Gooloo jumper pictured here.
This 1500A jump starter—which can breathe new life into your SUV, pickup truck, tractor, and even yacht—normally costs $80. Compared to the $60-$70 price tag on a lot of the 800A models geared toward more compact cars (the 1500A Gooloo supports up to 8-liter gas and 6-liter diesel engines), that's a steep luxury tax for owners of bigger wheels.
Net yourself a high-end jump starter for the entry-level cost of $49 by clipping the coupon featured here and entering the promo code 5AS6L4JQ at checkout. You'll never have to worry about your truck or phone dying again, thanks to its built-in 15,000mAh power bank functionality.
This deal was originally published by Gabe Carey in March 2020 and updated by Quentyn Kennemer with new information on 7/16/2020.
---
You may have seen Atlas Coffee Club on Forbes, USA Today, Food & Wine, and even CNN, but for the uninitiated, this subscription-based coffee service is giving Kinja Deals readers a free sample of their offerings using the promo code KINJACOFFEE. For $9 every 4 weeks or 2 weeks, you can look forward to half a bag of coffee on your doorstep from a different country around the world each time. $5 extra will grant you a full bag, making it the better value option.
With more than 50 countries now producing coffee—including Brazil, Ethiopia, Costa Rica, and Peru—you'll have plenty opportunity to refine your taste and sample a bunch of globally curated grounds, or whole beans if you prefer to grind your own. Travel the world from the safety of your own home, in coffee form. In a time when sitting on a passenger plane puts yourself and others at risk, consider this a safer alternative to an international expedition.
---
If you've been one of the more motivated quarantine people and overhauled your diet and exercise plan or if you long to do so still, this is a deal for you. This blender bundle from Blentec could be just the thing you need to jump-start a whole new routine. Take $276 off today and grab the Total Blender with a full bag of Blendfresh power. You'll also get free shipping with the code KINJAFS and a coupon for 20% off of anything at blendfresh.com.
This ten-speed durable and beautifully designed blender is easy to use and clean. There are preprogrammed buttons to help with smoothies, batters, soups, juices, and crushing ice. But it's not all healthy fun and games, treat yourself a little to that ice cream setting too. Blendtec is a quality product and will have no problem pulverizing fruits and veggies for whole juices. The jar is BPA-free and clearly marked to aid in getting the right measurements no matter what you're mixing. You'll get twenty servings out of that Blendfresh powder bag and if you love it your coupon for their website is good until the end of the year. MorningSave is the only place that you will find this bundle.
At checkout select the regular $8 flat shipping rate then click for a 'Coupon Code.' Now put in the KINJAFS to take off the shipped price. This coupon code will expire next Wednesday.
---
At Back Market, you can save a decent chunk on a pair of Beats Studio3 wireless over-ear headphones. They're only $175 refurbished, which saves you at least $25 over the cost you'd pay for it new at most other retailers. These are in "mint" condition, too, which—according to the refurbisher Back Market—means the following:
Condition Note: All devices are in excellent cosmetic condition. May show minimal to no signs of use. All devices have been tested and restored to full function, factory, standard condition.
Should you take a chance, you'll treat your ears to a balanced, but powerful sound stage helped along by active noise cancellation and Apple's W1 audio chip.
Enjoy up to 22 hours of battery life with ANC mode on, and a whopping 40 hours when you disengage it. Plus, the audio is calibrated in real-time to adapt to your ambient environment, giving you the best possible sound at any given moment.
If you buy from Back Market, remember that every purchase is backed by a 12-month warrant and a 30-day return policy, so don't be afraid to take a chance on a sweet new set of cans.
---
You may have seen our neck gaiter accessory around each of our sister sites' dedicated store pages, but for a limited time only, we're discounting each one by 10% and donating a percentage of the sales to charities like The National Black Justice Coalition, The Okra Project, and The Trevor Project. Support your favorite sites—and keep your face covered—while giving back to a benevolent cause.
Whether you want to show off your appreciation for Kotaku's excellent games coverage or Jezebel's meticulous (and sometimes hilarious) reporting on issues important to women, now is the chance to do so for just $19. A portion of the proceeds will be donated to Trans Lifeline and The Okra Project, respectively. Each gaiter is washable and reusable and can also be used as a headband, bandana, wristband, neck warmer, and more.
Here's a full rundown of our branded face shields, along with the names of the charities involved.
---
Satisfyer Pro 2 | $50 | Ella Paradis | Promo code SUMMERGraphic: Ignacia Fulcher
Because of the COVID-19 pandemic, Ella Paradis is experiencing fulfillment delays for some products. If you have any issues, make sure to contact their customer service page for any help.
For a short time, you can grab a Satisfyer Pro 2 for a low $50 at Ella Paradis. They're having a summertime sale that takes off 60% of the original list price on their sex toys sitewide with the code "SUMMER" that should be applied automatically. The Satisfyer Pro 2 imitates oral sex and provides adequate clitoral pleasure to make you climax over and over again. I would grab one before they're gone!