Photo: Christian Wiediger (Other)
Featured Deal: Apple Watch Series 3 | $169
Amazon Prime Day 2020 is coming … eventually. The annual mid-summer sales event, which delivers two days of wide-ranging, oft-amazing deals, is now looking more like a fall event due to the pandemic.
Once the dates are set, we'll bring you all the latest details on when Prime Day 2020 will take place and which sales are worth your attention (and cash)—but there are plenty of great Amazon deals in the meantime.
Read on for a sampling of some of the best current deals we've seen on Amazon, followed by an FAQ about Amazon Prime Day and the latest news on the 2020 event.
Image: Andrew Hayward
G/O Media may get a commission
Pay $7 for Four Rechargeable AA Energizer Batteries That Last Up to Five Years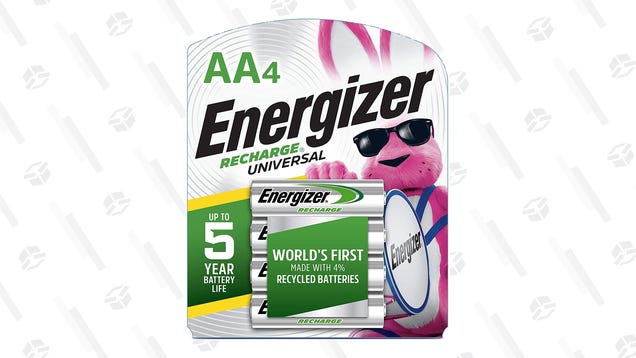 Energizer AA Rechargeable Batteries
The Apple Watch Series 3 might be a couple years old at this point, but it's still a darn fine smartwatch. And right now, it's only $169, which is $30 off the current regular price and quite a bit less than the Series 5 model.
This 38mm edition has built-in GPS, connects to your iPhone, and runs a wide array of apps and games while serving up notifications and tracking your fitness activity.
Image: Elizabeth Henges
Your mission, should you choose to accept it, is to save a bundle on this six-pack of action flicks: all six of the Mission: Impossible films to date.
They're not all winners, but the last three have been particularly great and there are two more in production — so you might as well get all caught up. At this price, it's just $5.50 a flick. Not bad!
Image: Disney
The classic LEGO Star Wars series is being rebooted for a new gaming era this fall with the release of The Skywalker Saga, a single game that encompasses all nine core flicks.
It's likely releasing closer to the holiday season, but right now you can save $10 by pre-ordering the game on PlayStation 4, Xbox One, or Switch.
Image: Instant Pot
Save half off the list price of this enormous 9-in-1 kitchen wonder device, which is an air fryer, roaster, toaster, broiler, dehydrator, rotisserie, and more.
It comes from the same company as the beloved Instant Pot and has a glowing 4.4-star customer review average on Amazon. And yes, it's down from $280 right now.
Image: Quentyn Kennemer
Apple's recently refreshed MacBook Air keeps the svelte frame and crisp screen of recent models, but doubles the entry-level storage. It's a winner if you're looking for a premium, yet ultra-light laptop.
And while Apple laptop deals are typically few and far between, Amazon is currently slashing $100 off the list price for the base model right now. Grab it while it's hot!
Image: Amazon
Jump-start your smart home ambitions with this discounted bundle of Amazon's compact Echo Show 5 smart speaker and a Blink Mini indoor security camera. The Echo Show 5 has a 5.5" touchscreen to let you view the feed from the camera, as well as watch videos and view information, while the 1080p Blink Mini camera lets you keep tabs on what's happening in your home. Save $50 right now with this promo.
Image: Elizabeth Henges
We've all been there: that moment of desperation in which you realize that you're out of batteries and you REALLY need them, so you start pulling them out of TV remotes and other gadgets. Or you head to the convenience store and wince as you shell out an insane price for a four-pack.
Avoid that grim scenario and prepare for the inevitable by buying a huge box of Energizer batteries from Amazon. This 48-pack of AA batteries will only set you back about $20, with the same quantity of AAA batteries available at the same price.
When is Amazon Prime Day 2020?
Typically, Amazon Prime Day has taken place in July. However, given the chaos of the current coronavirus pandemic and the impact it has had on Amazon's ability to consistently fulfill orders for "non-essential" items, it's no surprise that this year's event is coming later.
According to a report from The Wall Street Journal, Amazon is currently targeting September 2020 for this year's event. The retailer hopes to be back up to full steam with shipments by then and able to meet the immense demand of Prime Day, but we're sure that the status of the pandemic in the coming months will determine whether that target holds true or not.
What kind of deals can we expect?
We won't know the actual deals for Amazon Prime Day 2020 until the sales event is formally announced, but we can look back at the 2019 deals for a sense of what might be up for grabs.
In short, nearly everything. Amazon's own gadgets are usually deeply discounted, along with TVs, laptops, earbuds, game consoles, kitchen devices, robot vacuums, clothing, gift cards, furniture, and so much more. We're likely to see thousands of discounts across the board, some more dramatic than others, with many standout deals in the mix.
What about other retailers?
While Amazon will undoubtedly command the online shopping conversation during Prime Day 2020, expect other sites to try to snipe some of that momentum by matching Prime Day prices and/or offering other special discounts. We'll be keeping tabs on those deals while also bringing you the best Prime Day deals once the event arrives, so stay tuned.
---
Source