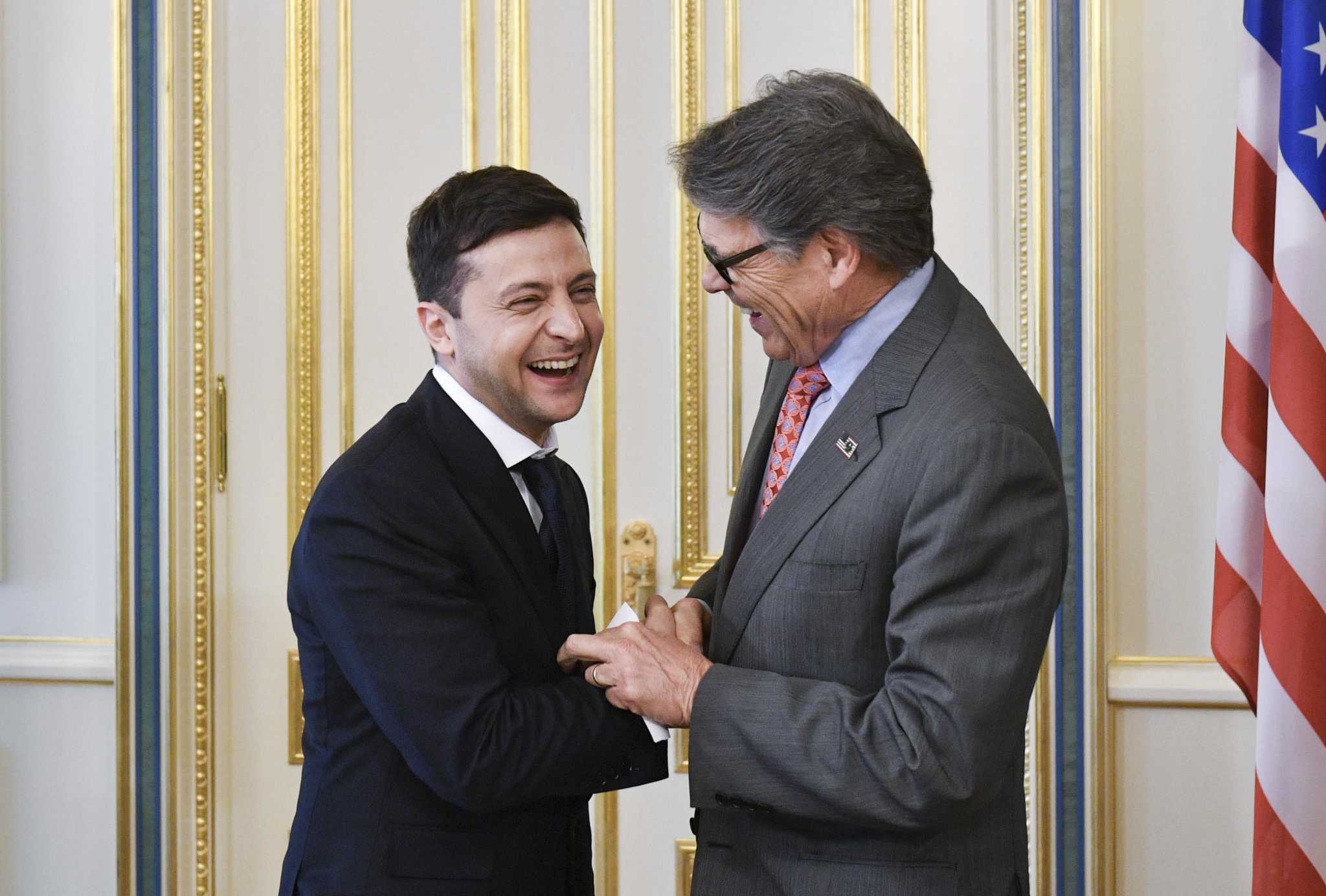 WASHINGTON — Former U.S. Energy Secretary Rick Perry played a key role as a messenger in President Donald Trump's pressure campaign on the Ukrainian government last spring, says Lev Parnas, the indicted former associate of Trump's personal attorney, Rudy Giuliani.
Perry was sent to the Ukrainian president's inauguration in place of Vice President Mike Pence to deliver the message that the new president needed to publicly announce an investigation into Joe Biden, Parnas said in an interview with MSNBC.
"He called Rudy on his way there to ask him what to discuss, and Rudy told him to make sure to give him the message," Parnas said about Perry, adding that the message was "absolutely" that Ukraine President Volodymyr Zelenskiy needed to announce an investigation into the former vice president, Trump's political rival.
Texas Take: Get political headlines from across the state sent directly to your inbox
It's the most detailed account to emerge about the former Texas governor's involvement in the scandal that led to Trump's impeachment by the U.S. House. The impeachment articles allege that Trump abused his power by withholding military aide from Ukraine until leaders there agreed to investigate Biden.
The news comes days before Trump's trial in the Senate is set to begin in earnest. Whether or not senators will call additional witnesses to testify has been among the biggest question marks — and some are now urging the Senate to question Parnas.
Republicans, and the Trump White House have been quick to question Parnas' credibility. Parnas faces federal charges, accused of illegally funneling foreign cash into U.S. elections.
"I wouldn't trust him as far as I could throw him," Sen. Lindsey Graham, a South Carolina Republican and close Trump ally, told POLITICO.
The details of Perry's alleged involvement could spark new questions for him, as well — especially as another former administration official, John Bolton, who served as national security adviser, has said he will testify in Trump's trial, if asked.
Such an offer is unlikely to come from Perry, 69, who has denied any wrongdoing. In regard to the impeachment, Perry has said he doesn't "see the American people buying into this thing."
While there's no indication yet that Perry would even make a potential witness list, Democrats including Texas Rep. Joaquin Castro have long called for an investigation into his dealings with Ukraine. Like other administration officials, Perry refused to comply with a subpoena from House Democrats during the impeachment inquiry — part of what led them to impeach Trump for obstruction, as well as abuse of power.
For subscribers: Rick Perry says Trump is God's 'chosen one'
Perry was one of several senior Trump administration officials who knew about and approved of Trump's attempt to "use the powers of his office to solicit foreign interference on his behalf in the 2020 election," according to a report by House Democrats.
The report said Perry was one of the so-called "Three Amigos" who Trump put in charge of dealing with Ukraine. Trump ordered the group, which included Ambassador to the European Union Gordon Sondland and Ambassador Kurt Volker, special representative for Ukraine negotiations, to work with Giuliani, the report says. The three led the U.S. delegation to Zelenskiy's inauguration in May.
Parnas, in the interview with Rachel Maddow, said Perry called Giuliani after Zelenskiy's inauguration, "telling him that he spoke to Zelenskiy and Zelenskiy's going to do it."
Zelenskiy did announce a broader investigation into corruption following the meeting, Parnas said, but it wasn't good enough.
"Every time somebody would meet Zelenskiy, they would agree and then they would walk it back," he said. "So they announced something about corruption — that's he going to deal with corruption. And Giuliani blew his lid on that, saying that's not what we discussed."
For subscribers: Texas Rep. Sylvia Garcia will serve on prosecution team in Trump impeachment trial
U.S. Rep. Al Green, a Houston Democrat and longtime advocate for impeachment, told Hearst Newspapers he thought Parnas seemed credible in the Maddow interview.
"I think he ought to be heard," Green said. "Somebody should call him as a witness."
As for Perry?
The Senate should try to talk to him, too, but "he's probably going to deny it," Green said.
"All of these folks are going to deny. They're in the inner circle," he said. "As long as they deny, they're OK."
In one of Perry's few public statements about the matter in November, he said Trump is God's "chosen one" to lead the nation, and that he's confident the president will weather the impeachment storm.
"He will muscle right on through this," Perry said at the time. "He is an extraordinary individual, to stay focused and disciplined."
ben.wermund@chron.com